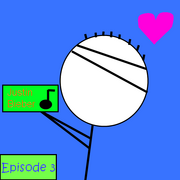 Bieber Fever is the third UMShorts episode.
Josh, Quinn, and Ronald go to Greenday's hideout, to find Justin Bieber there instead. He tries to poison Ronald with Bieber Fever, but misses and hits Josh. He is then rushed to the Musicia hospital for further care. Justin escapes, and now the trio must find him, and rid him from this universe once for all.
Ad blocker interference detected!
Wikia is a free-to-use site that makes money from advertising. We have a modified experience for viewers using ad blockers

Wikia is not accessible if you've made further modifications. Remove the custom ad blocker rule(s) and the page will load as expected.